Add Video Communication for Smart Customer Support

eyeson integrates seamlessly into your CRM for fully interactive customer support letting you add live media and live data easily. Integrate eyeson live video for great service and troubleshooting - everywhere for everyone.

100% BROWSER based
Browser-based client integration on any device – desktop and mobile
Web-based API Integration
Troubleshoot & guide your customers with live video
Improve service and conversational experience with integrated video communication for excellent customer support. Visualise problems, share screens and communicate face-to-face for a flawless and efficient service.
Optimize your resources with a seamless integration
eyeson fits your service processes with a seamless integration that allows you to have all the data and communication in one place. eyeson converges multiple audiovisual and data sources into a single video stream processed in the cloud to unburden your system.

Connect with customers at any time and from anywhere

Screencast or show documents

Record and archive sessions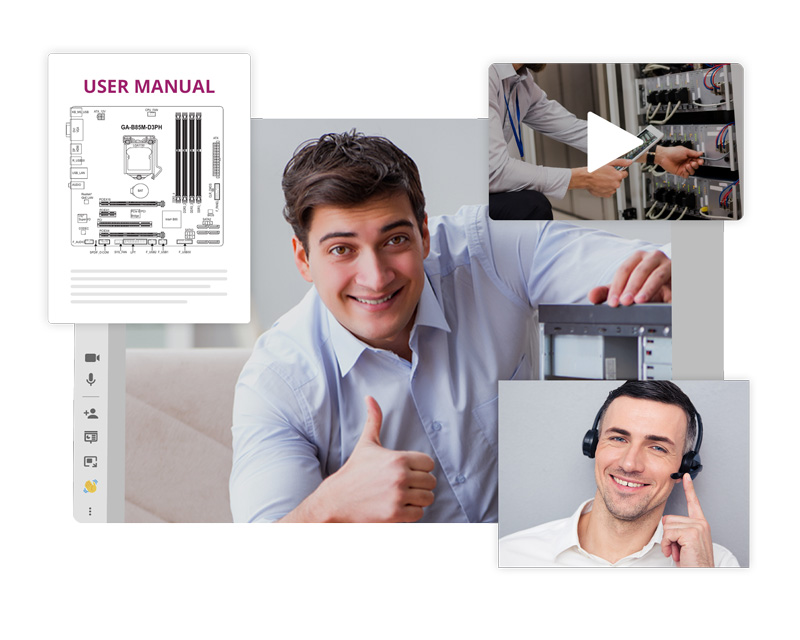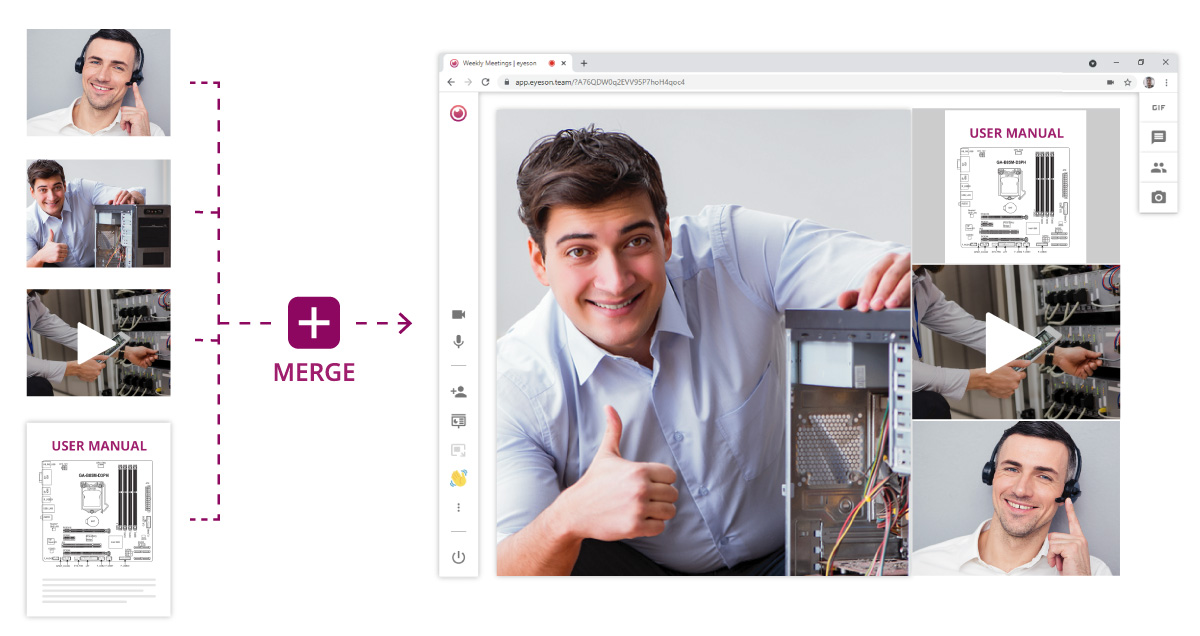 Video layout for customer support
The eyeson API enables merging any live media, data and participants in real-time into a single video and audio allowing you to configure your own layout with:

Live Media: Live Mobile Video, Tutorial Videos, Recorded Sessions

Live Data:

Instructions, User Manuals, Technical Data Files

Live Participants: Support Agents, Clients

Example Use Case: Troubleshooting with Live Video
The revolution in tech support - direct connection via QR code
eyeson shortens the connection route between customers and support technicians to improve service and conversational experience with integrated video communication. Customers just have to scan a QR code to access the virtual meeting room in their standard browser.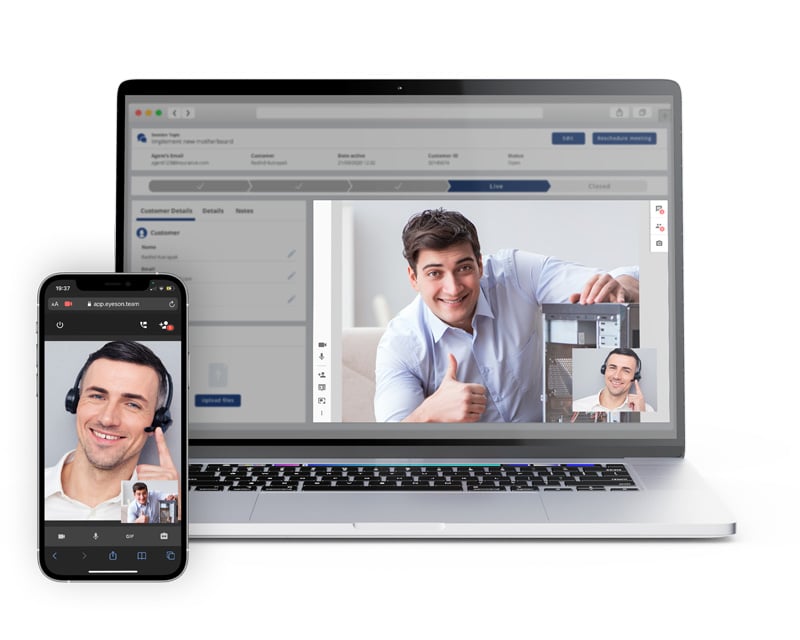 Visualize problems that are hard to express with words
Connect with customers at any time and from anywhere via video to quickly assess the situation and guide customers through troubleshooting. Screencast or show documents to help customers understand, give the best support and build resilient relationships.


Provide interactive real-time troubleshooting via co-browsing
With co-browsing, agents can see their customers' screens and vice versa in real time. This makes guiding them through complex processes, forms or setups much easier. Therefore, it improves customer interactions by minimizing the number of touchpoints and boosts the first contact resolution rate by combining co-browsing with live video chat.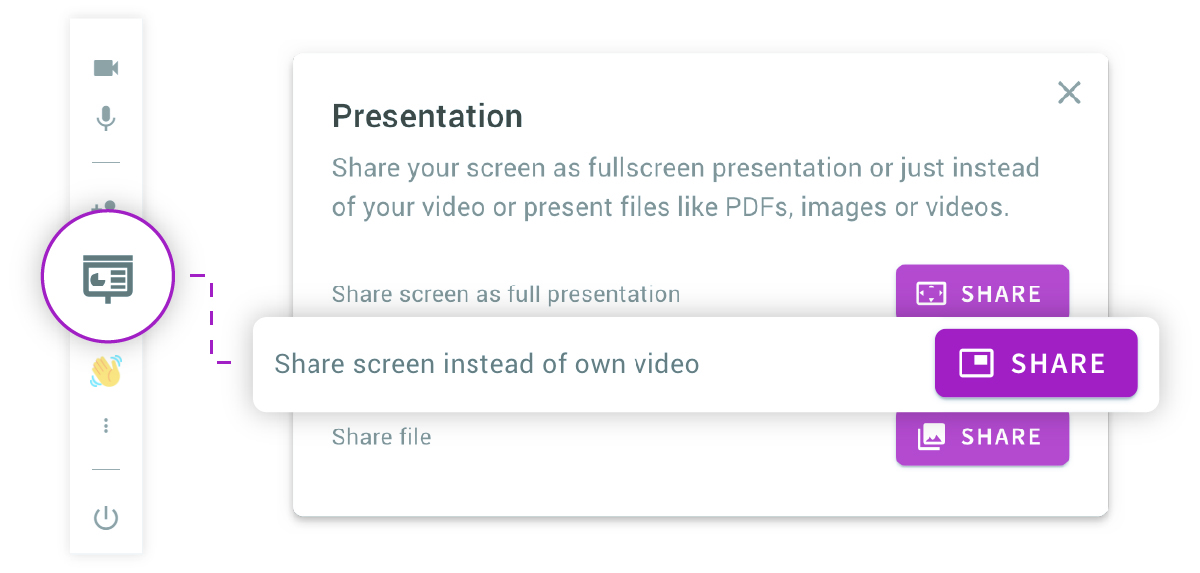 Scan a QR code to access live support
Troubleshooting with eyeson via QR code scanned on a mobile phone- no downloads or registration needed! Learn more on how to get started.

Start for free! Create your integration now.
CREATE YOUR VIDEO SESSION
Use a single API command to start a video meeting session with all eyeson features
set YOUR OWN VIDEO layout
Merge live media, data and participants into a single video & audio stream