Cloud MCU Service

eyeson makes a set of features available to developers to add live video to any type of remote use case – with few lines of code and high scalability.
No need to maintain your own servers – we take care of it
A MCU+ server connects endpoint devices and manages multiple endpoints during a multipoint conference session at once, coordinates their functions on the video data processing, and forwards the flow of media streams between them.
Cloud Processing Services
MCU (MULTIPOINT CONTROL UNIT)
The streams from all participants will be collected on a virtual cloud server instance. Only 1 single stream (SST) is sent back to all participants.
SFU (SELECTIVE FORWARDING UNIT)
The stream is directly forwarded to the other participant. This happens without additional processing of the video.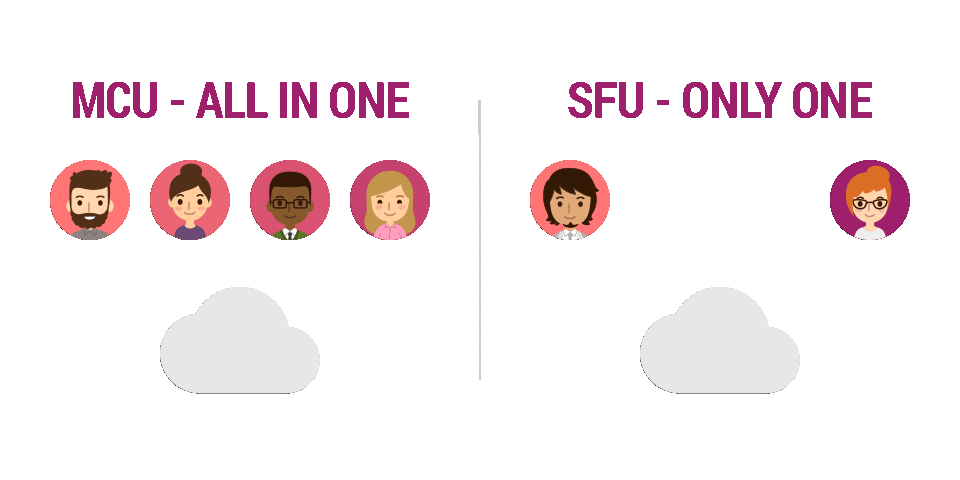 Easy Configuration & Management
Show any content inside your video using the eyeson API or eyeson JS. Set up the workflow for your use case as it best fits your needs.
1

| Data injection
Show any content inside your video using the eyeson layer service. Inject live data sources directly into the MCU (live video, video files, static image, static text).
2

| layers & layouts
Specify layers, positions and sizes for live data source injection. Use predefined video call layouts. Enable or disable video for participants connected to MCU.
3

| moderation
Add or remove audio and video sources (moderator features). Show selected sources in fullscreen mode on the MCU.
4

| External Stream
Connect external video sources like IP cams, MCU to CDN networks for broadcasting or phone lines to your MCU. Trigger & manage recordings on your MCU.
eyeson Cloud Video Features
Video calls are organized in eyeson rooms. Within an eyeson room, all features like broadcast, recording, layout, data and image injection be directly controlled.
Cloud Recording & Snapshots
With eyeson, users can easily record their video meetings or take snapshots anytime during the meeting. They can even take snapshots while somebody is presenting to save important information. For transparency reasons, there will be an immediate notification whenever someone starts a recording or takes a snapshot.
Recordings are saved in eyeson's cloud storage and can be downloaded from there. Direct URLs to downloads expire, so it's better store the recording identifier and fetch a valid resource link on demand.
Broadcasting
eyeson enables live streaming of meetings and online events on various platforms. There are many video platforms that provide a live stream feature and most of them offer the possibility to receive RTMP streams to do so. This feature allows customers to activate live streaming with the possibility to use different streaming providers like YouTube, Facebook, Vimeo, Twitch, or Restream.
To connect an eyeson room with a broadcast you just have to provide a valid streaming RTMP url.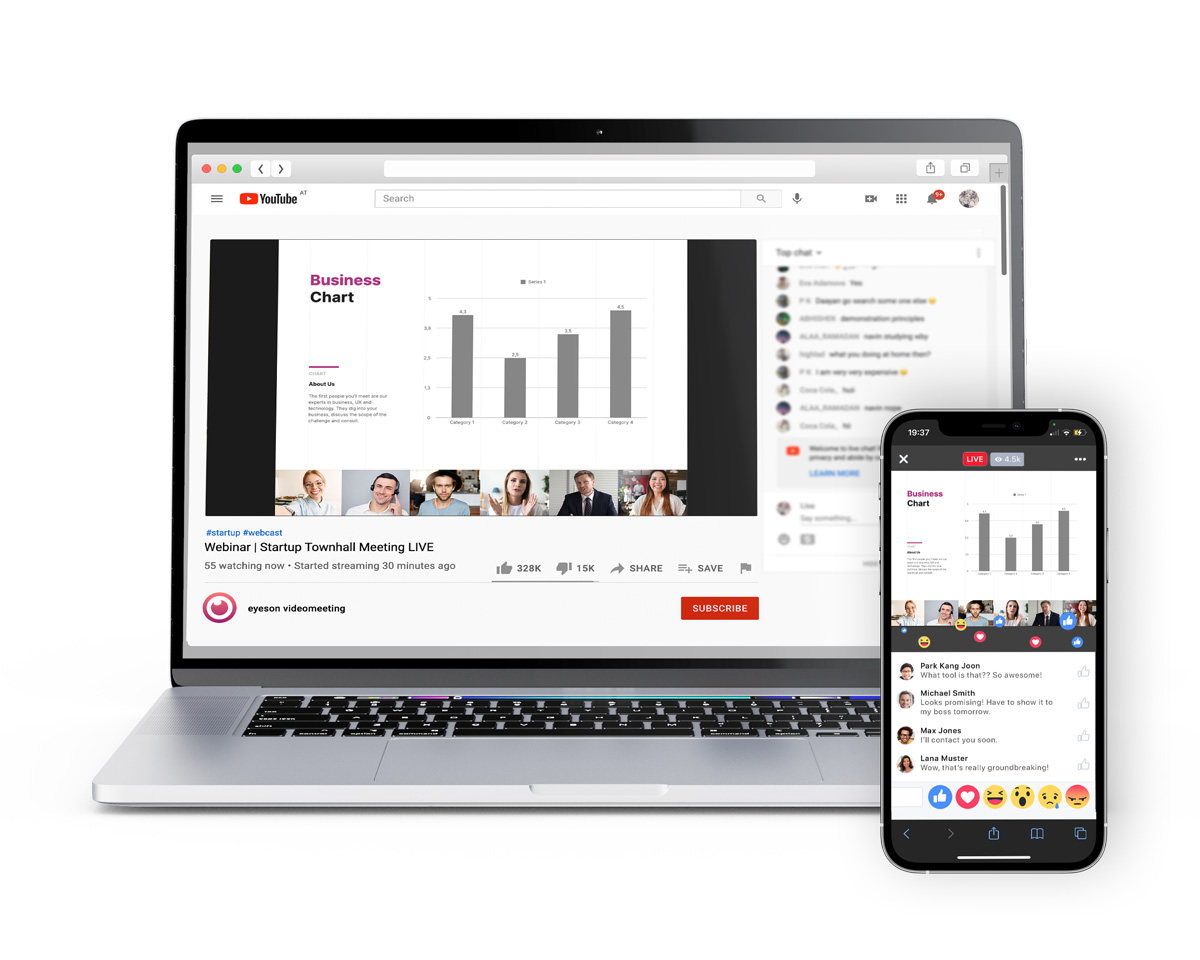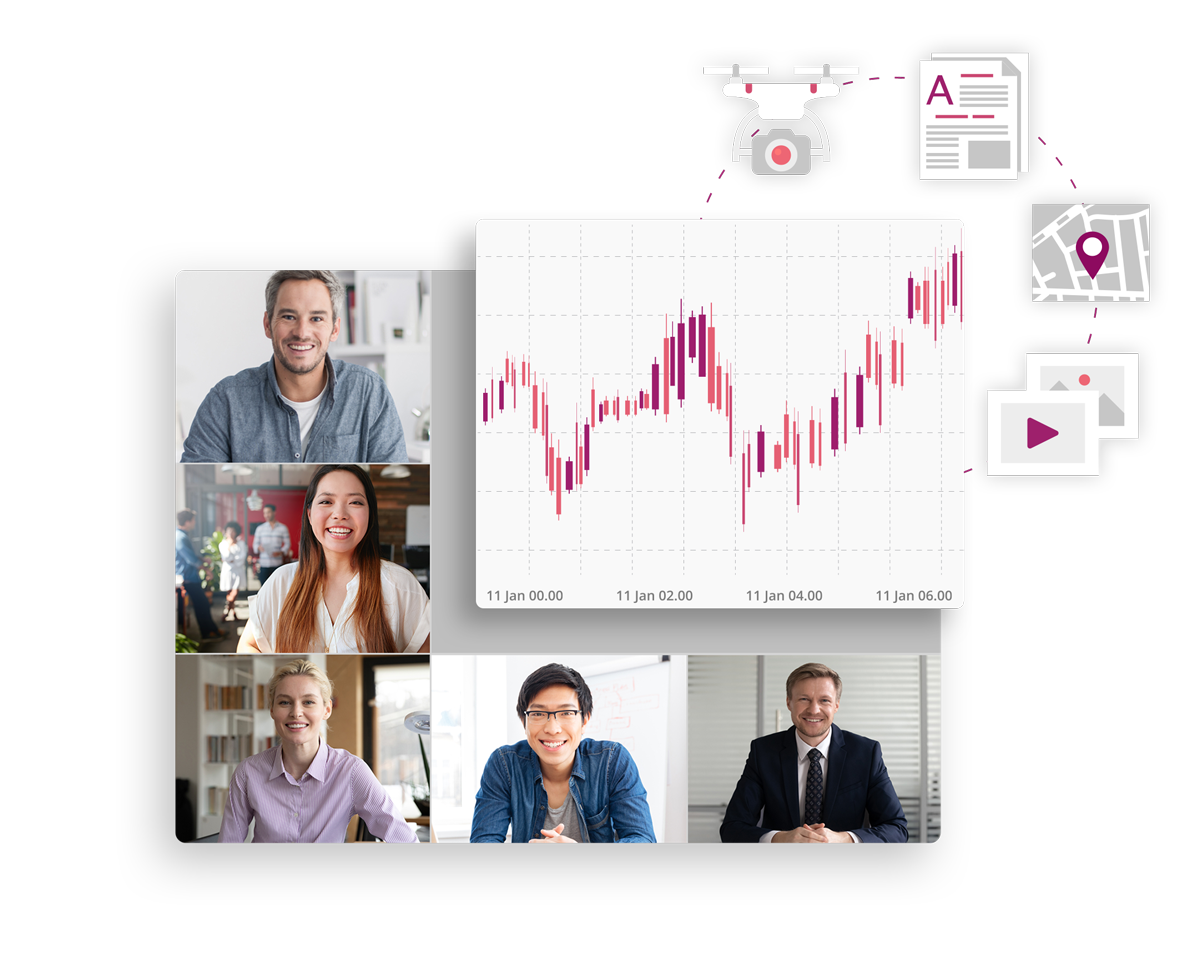 Data Injection
eyeson gives developers the power to visualise any data live in video meetings. Using the eyeson API, customer engagement can be enhanced by visualising relevant content like text, images, videos or any live data in a video meeting to further enrich the customer journey.
Developers may assign participants or content types to a specific video position in a given layout. For complex media visualization, data can be generated easily – image uploads from a public URL, simple text messages or tweets, avatars or images as an icon, etc. An additional highlight is to playback videos such as MP4 formats to enable a cinema-like mode.
MCU+ Data sheet
Explore eyeson's superior MCU service
The eyeson MCU+ service is a cloud software service that allows organizing group video conferences between video conferencing endpoints, enhanced with additional custom media streams, like data, TCP/IP cams, etc.
Transparent All-in-One Pricing

Independent of the number of participants and features, we charge only based on the duration of the meeting.