Top-notch Webcasting with Superior Quality & Security
The eyeson API fits your organization seamlessly providing a secure and scalable webcasting solution. Produce highly engaging web events for thousands of attendees worldwide.
100% MANAGEd CLOUD
All video services are cloud based with full scaling support world-wide
100% BROWSER based
Browser-based client integration on any device – desktop and mobile
Web-based API Integration
Fully engaging auto-moderated town hall meetings
Embed videos and presentations to boost the impact of town hall meetings as virtual planning and sharing space. Share company updates with employees in a secure virtual environment, gather input and manage logistics and documentation safely.
Increase focus & engagement
Share important updates, milestones and dates with employees for stronger commitment and company culture. Create a fruitful environment to share ideas, ask questions, and hold discussions.
Keep employees connected with coworkers and upper management regardless of the physical distance. Create a virtual space for sharing stories and also for socializing and small talk.

All video & audio feeds merged in one stream

Automatic activity-based participant arrangement

Fully automated - no need to share documents manually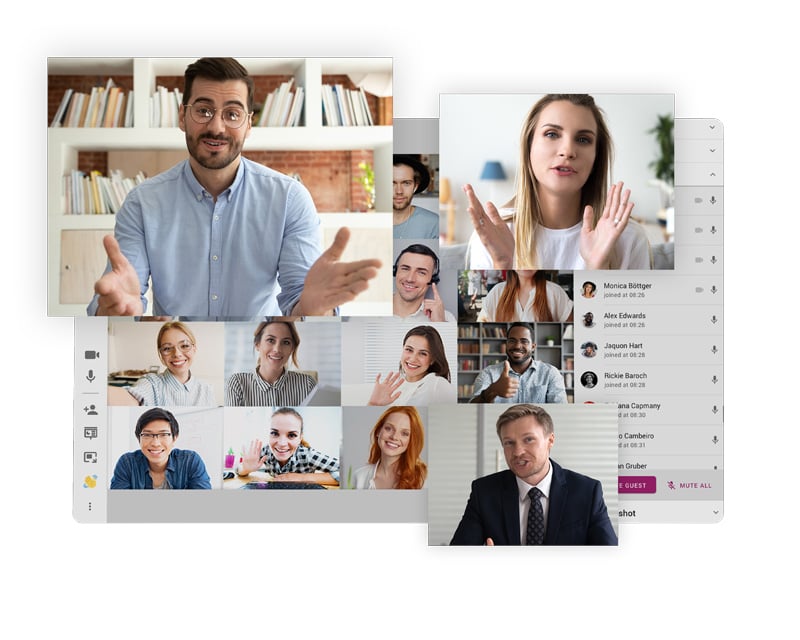 Web-based API Integration
Feature-rich & secure virtual events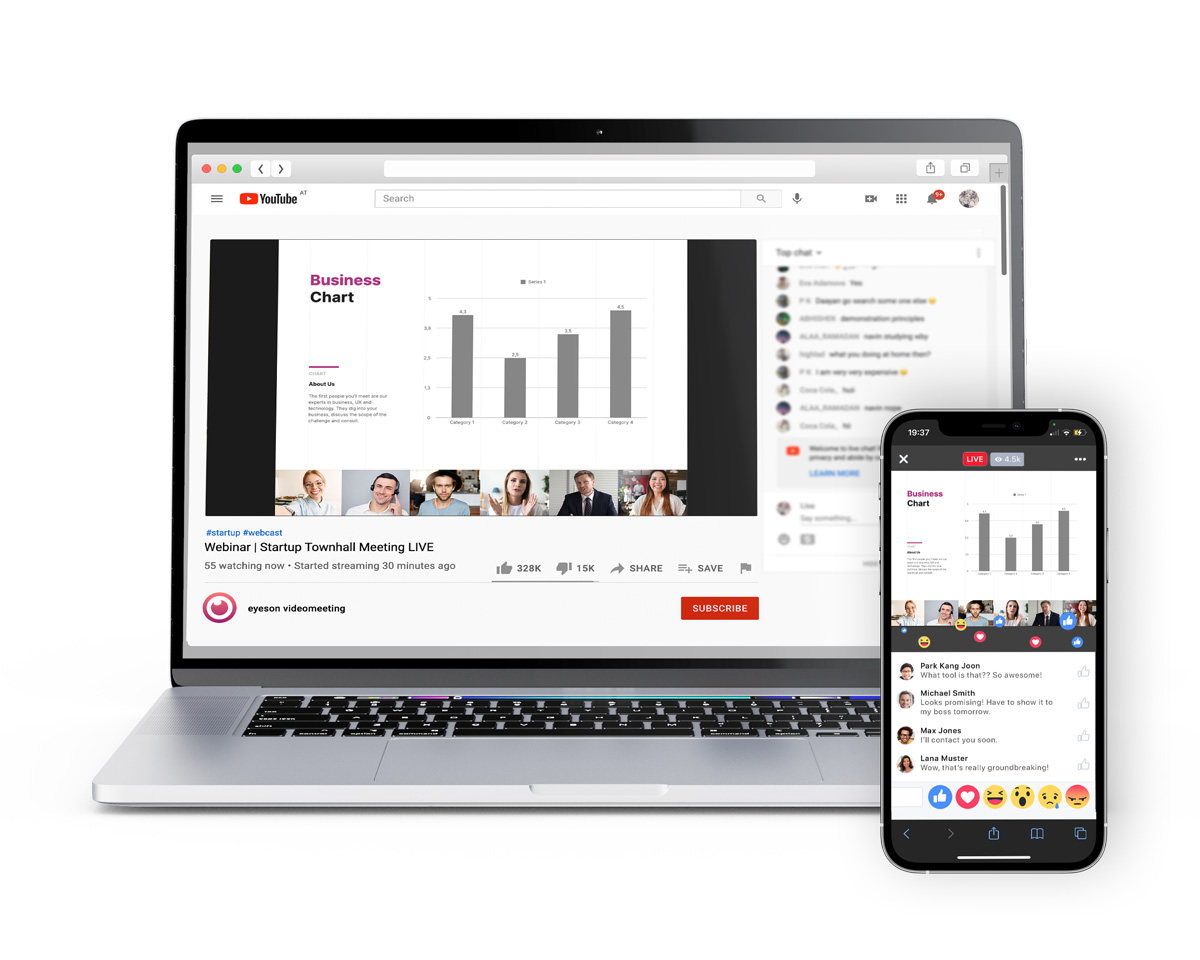 Stream your events live for maximum reach & engagement
Accessibility and cyber security are our priorities. eyeson provides an excellent technology to enable interactive use cases with increased engagement on several steaming platforms without having to juggle different tools. Stream your events live easily taking advantage of flexible layouts & data visualization.
Interactive moderator dashboard

Seamless integration - go live without changing tabs

Live media & data merged in one stream

1-on-1 meetings with highest security and a dynamic environment
Create a virtual space for discussing business deals comfortably and nurturing professional contact - all in an exclusive meetings dashboard. eyeson provides bulletproof security and easy access avoiding unnecessary downloads. Hold engaging meetings sharing data and rich media live - all in one interface to provide a comfortable control and management for the organizer.
Shared files and multimedia during live meetings

Customized layouts based on meeting needs

Highest security and 100% GDPR compliance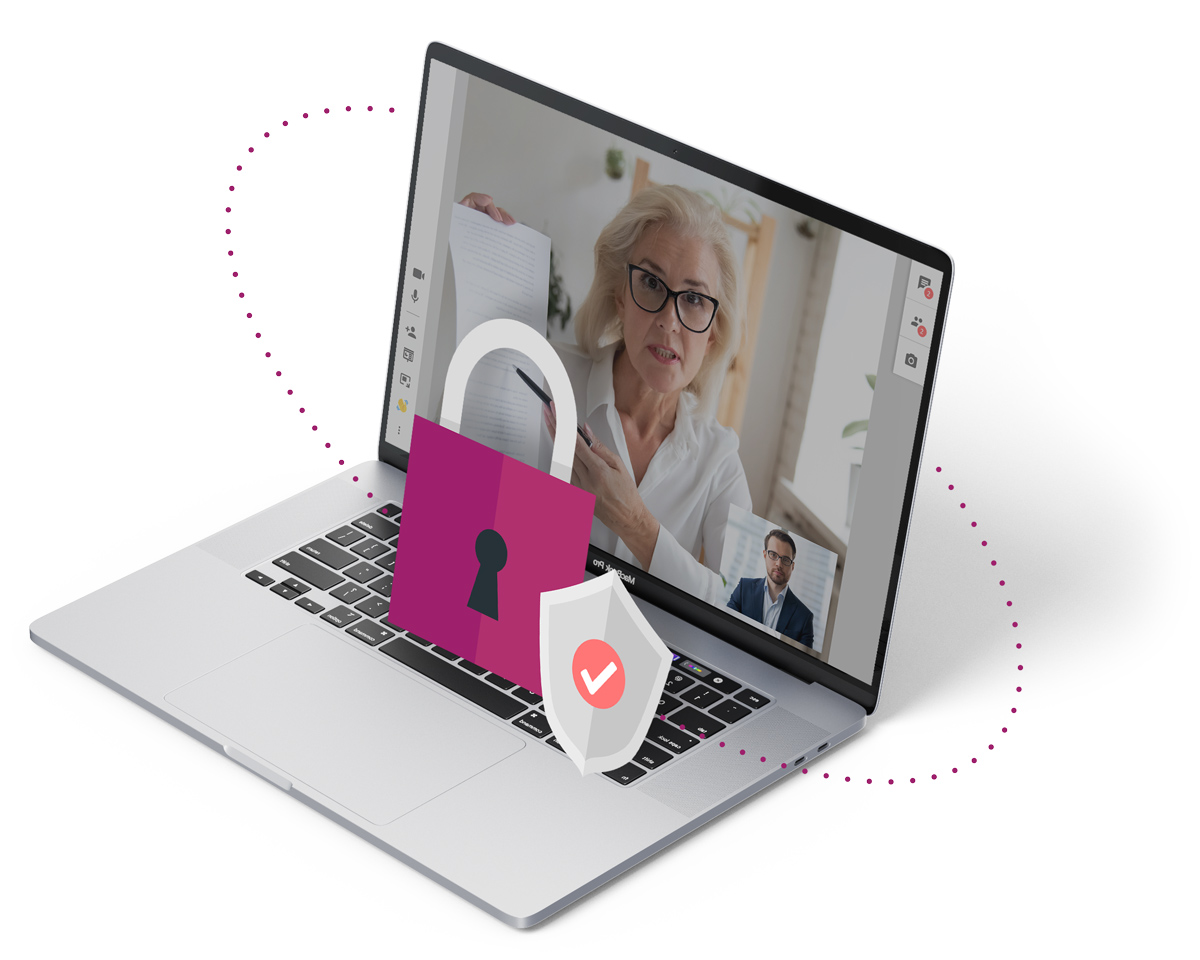 VIDEO MEETING FOR THE EUROPEAN RESEARCH & INNOVATION DAYS
eyeson is being used in two ways on the platform: in the networking area for person to person video calls & live broadcast
Web-based API Integration
Create more value with webinars in a post-pandemic world
Build lasting connections through networking
eyeson brings in real human connections through messages, 1:1 or small group video meetings directly through your own platform. Provide immersive content through keynotes and breakout sessions in dedicated virtual rooms. The unique Single Stream Technology merges Participants and multimedia live in video meetings while keeping the bandwidth low.
Flexible & customizable

Highest security and 100% GDPR compliance

High accessibility even in low bandwidth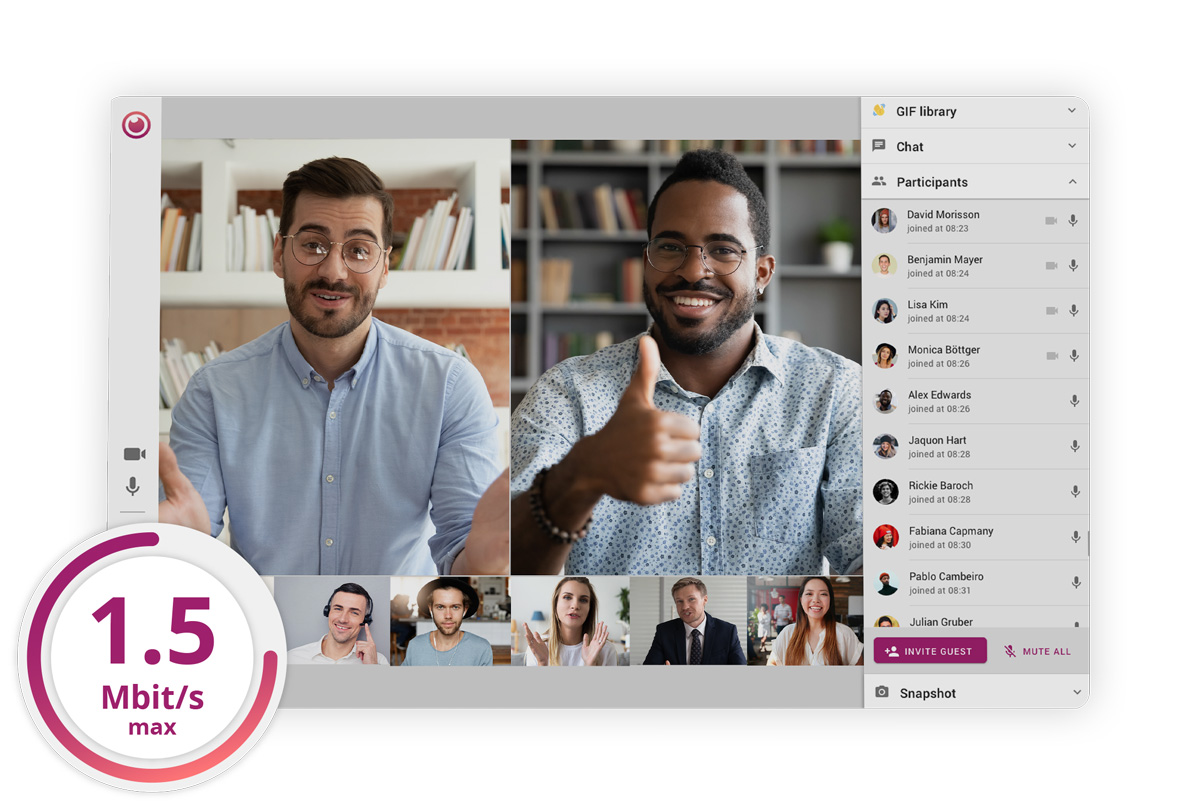 EBUS WEBINARS & VIRTUAL CONFERENCES
Being a global project, there are certain criteria to be met: low needs both in terms of hardware and bandwidth consumption.
Start for free! Create your integration now.
CREATE YOUR VIDEO SESSION
Use a single API command to start a video meeting session with all eyeson features
set YOUR OWN VIDEO layout
Merge live media, data and participants into a single video & audio stream