A Single Interface for All Projects

eyeson merges participants, media & live data into one stream enabling easily integrable video solutions – setting a new standard in video integration with supercharged WebRTC API & automatic bandwidth optimization.

Single Stream Technology makes the difference
Single Stream Technology MCU service can control a wide range of functions for communicating and real-time processing of rich data including video and audio transcoding, mixing, streaming, recording, data & media injections and much more.
1

| Core Software
Single Stream Technology (SST) combining live participants & any data into 1 single video stream
2

| Open Source UI
Embedding the single video stream into any webservice on any device – optimized for any complex workflow
3

|Cloud Service
Executing SST to scale independently from client integrations – no infrastructure needed
4

|Cloud API
Adding any participants or data source within the single video stream without changing UI components
Merge participants, media & live data in real-time into a single stream
eyeson implements Single Stream Technology in the cloud and every MCU is implemented in its own separate virtual cloud server instance. This approach increases security, enhances performance and improves scalability.

Less Streams
Less bandwidth and CPU resources
Cloud Service
No infrastructure costs for customers
simple ui
Add participants or data sources without changing UI components
Unique advantages of Single Stream Technology
Single Stream enables all the data, video & calls to be processed in the cloud, in a single interface connection towards the user.
Bandwidth issues no more
Use less bandwidth and less processing power and enjoy non-interruptive meetings.
All-in-one interface
All video & data streams are processed in the cloud – a single interface with high scalability.
Save costs
eyeson is 30-70% resource-saving compared to the main competition.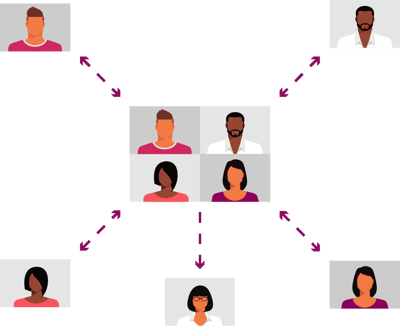 Single Stream TechnologY
The bandwidth always stays the same, regardless of the number of participants (1.5 Mbits up / download per client)

Recordings include all sources in one video and can be replayed directly after the live event

"Unified broadcasting" – all participants see the same video and slides

Video quality always stays HD

Real-time broadcasting, independent of the number of participants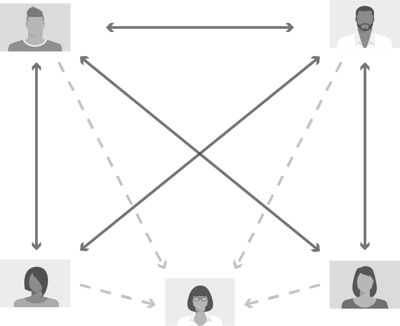 What others do
The required bandwidth depends on meeting participants (4.5 M bits up / download per client)

Separate recordings for all participants locally. To see all participants in one video, it needs to be cut and uploaded separately.

Replays with more than one active speaker are only possible after editing

Video quality decreases as the number of participants increases

Moderating and directing is not possible
Key technology to support a wide range of video layouts
SST merges any live media, data and participants in real-time into a single video and audio stream. The resulted single stream is distributed to all connected clients and guarantees that everyone sees the same as it is integrated in one single WebRTC Frontend Service.
That makes it especially easy to integrate in any web project or service.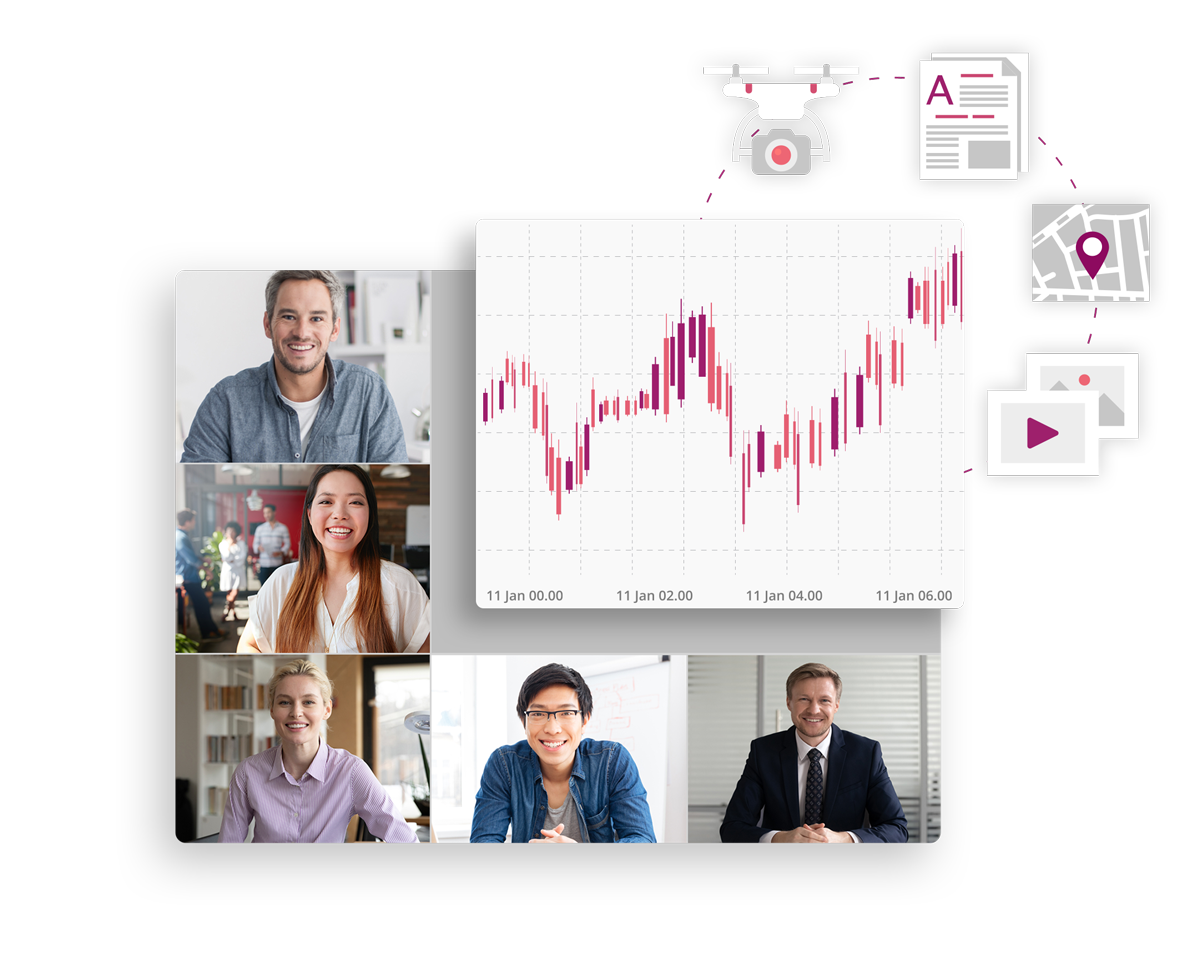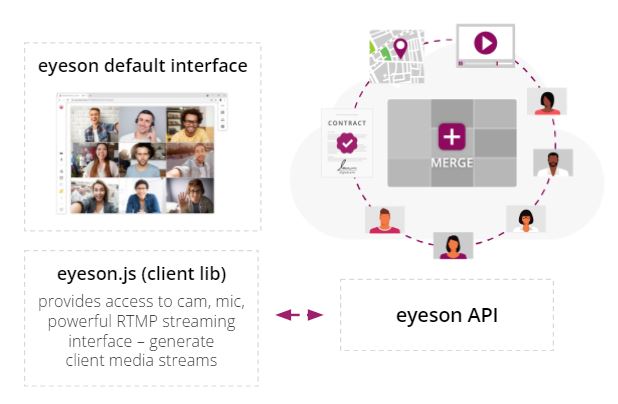 Default UI integration
eyeson provides a default web user interface for easy implementation to get started quickly with eyeson video communication. The application demonstrates a very simple interface for eyeson video meetings and can be used to host or integrate videos in any software.
With a single request to our API service, a video session can be started. Immediately a meeting room is prepared and available to be joined. The service provides a secure access token that authenticates your user. In order to use eyeson as quickly as possible, you can simply forward your user to the default eyeson web UI.
For iOS and Android, we also provide the eyeson mobile applications found in PlayStore and Apple Store. Once installed, meeting URLs to the default web UI will be used to join meetings using the app.
Custom UI libraries
eyeson API enables a more interactive collaboration providing the functionalities required to set up an individual solution.
The eyeson web UI is fully packed with features and optimized for a great user experience. However, if the provided options do not fit your needs you can easily build your own interface. Using a custom UI you have no limits on controlling the look and feel of your video sessions. This can be easily done as we provide a convenient JavaScript package to help you build a product that fits all your needs.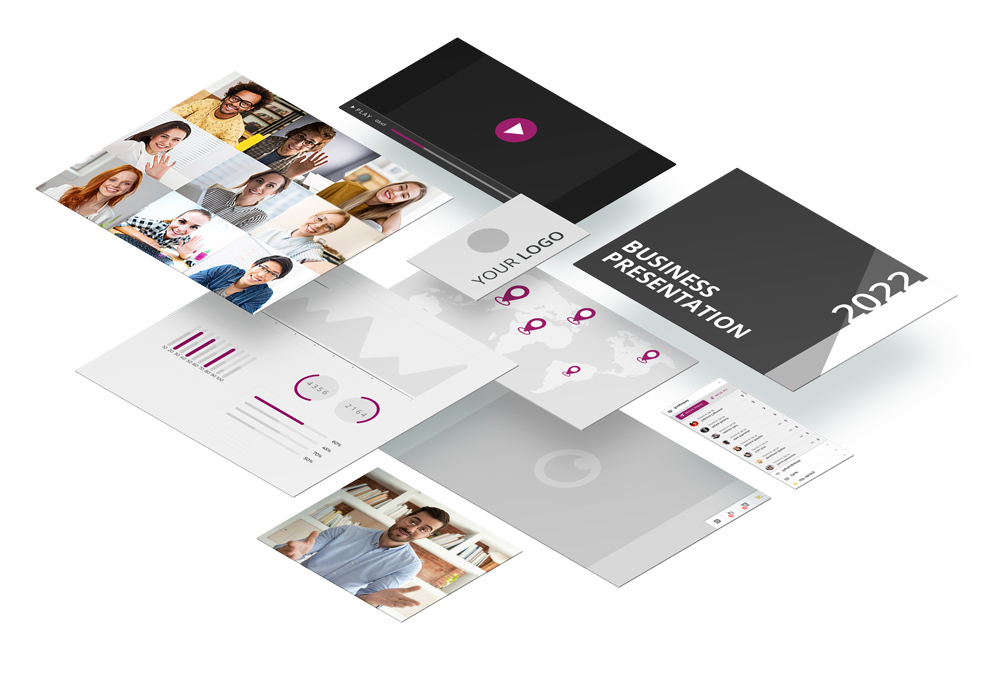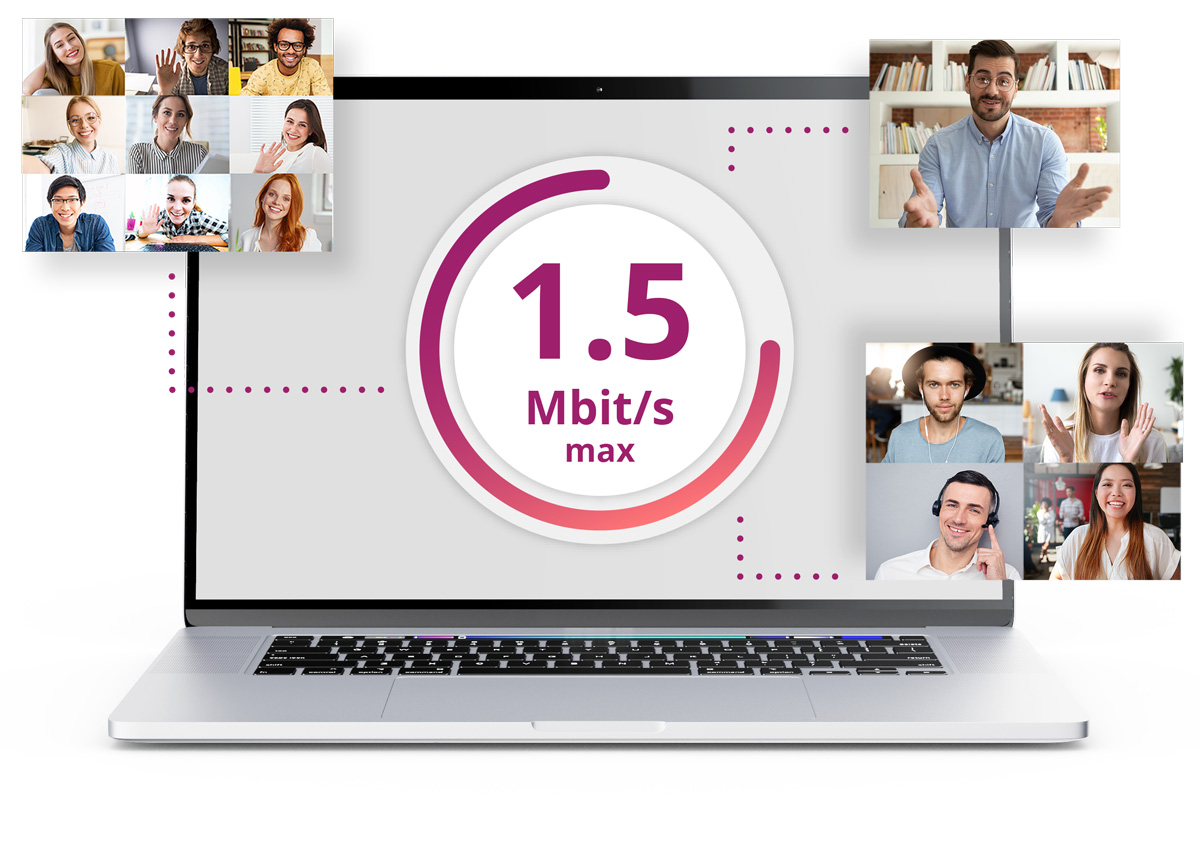 Advantages for developers
Deliver video meetings with one click, and integrate special features like screen sharing, recording and live streaming at no extra cost. Easily add animations, videos or data overlays to your live video meetings
Our patented single stream technology offers you a supercharged WebRTC API with automatic bandwidth optimization. All participants are sending their audio/video to the eyeson server where it is mixed and, if desired, enhanced with additional data. A single stream is sent back to all participants and via RTMP to streaming services.


Transparent All-in-One Pricing

Independent of the number of participants and features, we charge only based on the duration of the meeting.