Quick and fully integrated into your daily remote team habits: eyeson adapts to your company culture and routines. Support your team and colleagues with secure and straightforward yet highly effective video meetings, even with low bandwidths.
No Installation
As simple as making a call (access through web browser for team members)
SECURE MEETING ROOMS
Rooms for recurring meetings, ad hoc meetings and locked rooms, scalable anytime
Data Protection
100% Austrian solution with freely selectable hosting provider. Our cloud is GDPR compliant.
Document Meetings
Share documents, record discussions & make snapshots to capture moments
USE CASE TEAM MEETING
How we use eyeson at eyeson
There are a lot of ways for how teams communicate with each other. And there are a lot of theories on how your meeting culture should look like. eyeson is the perfect tool to support the different kinds of meetings – simple, yet powerful, and easy to use.
How to use eyeson for remote team meetings
At eyeson, we want to get the best team members, no matter their location or ability to work during set hours. After all, we know that remote work is a part of the future. Even though most of us work remotely, we manage to stay connected. Using video meetings also allows us to be flexible around family and other life obligations because we can join from anywhere.

Every day at 09:00, we have a reminder popping up in our Slack channel. The reminder is a great feature that Slack offers. It includes a direct link to the daily stand-up meeting room because the link is always the same.
How we use eyeson in combination with Slack
For more spontaneous meetings, we use our Slack integration. Once you've connected Slack and eyeson, you can start video meetings with just one click. We enter /eyeson in a given channel. The other members of that Slack channel will be able to join the meeting quickly. What that essentially means is that the members of a Slack channel are also members of the eyeson room.
It's simple things like that, which can save us a lot of time and allow us to tackle the most important topics every day.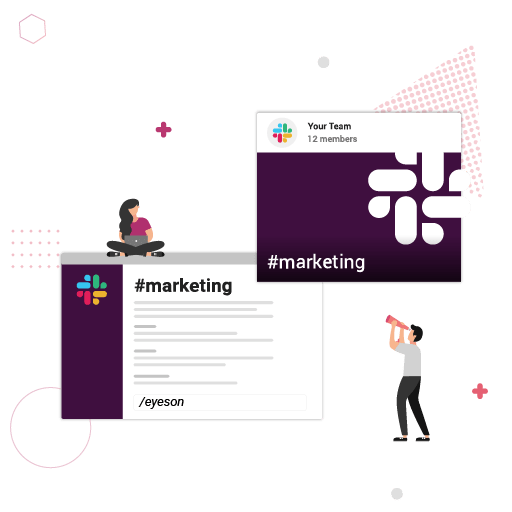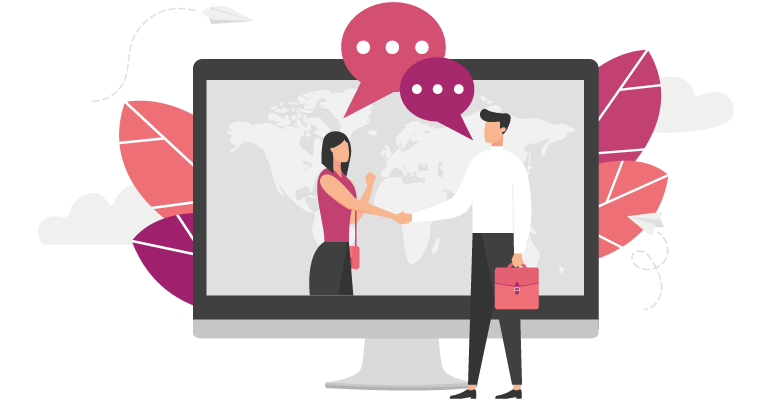 How we use eyeson to set up meetings with externals
When we talk to people outside of eyeson, we use different rooms. All we do is copy and paste the link in the calendar invitation. The other person will only need to click the link to join. If we ever need an additional person to jump in during an ongoing video meeting, we use the quick join feature. To us, this feature is an incredibly convenient way to invite someone into our meetings without becoming a member of the room.
Integrate eyeson in your existing workflows
Absolute Confidentiality
Lock eyeson meeting rooms to provide discrete meetings. The intuitive room system enables you to create custom meeting rooms. Access your meeting rooms anytime – the link stays the same.
Seamless Integration
The creation of "rooms" provides a simple way of communication within your company and with externals. Rooms can be named and customised freely in order to meet your specific needs.
Easy to use & implement
The simplicity of eyeson also enables less tech-savvy people to join a video conference without any problems. Invitations are sent to any device via a link. A click on this link is sufficient to join the meeting – no need for downloads or registrations.
The ideal solution for remote team meetings
Uncompromised data protection
The protection of information is fundamental. With eyeson, you can decide where to host your video meetings and ensure your business secrets and company internals are safe.
Recording & Snapshots
Use the recording to keep a record or a documentation, and download the video later on. Snapshots enable photo documentation.
Flexible Invite Options
Choose between permanent room links for recurring meetings and temporary valid guest links to invite externals and clients to your video meetings.
Andreas Kröpfl | CEO eyeson GmbH

"Flat hierarchies are an important part of modern companies – so is a well-structured meeting culture. Therefore eyeson is the perfect tool for our decentralized team. We use permanent rooms for everyday stand-up meetings. Our partly remote team members meet online whenever they need to. And besides, we use various devices with different operating systems, it is a no brainer because you do not need to roll out and install a client."
Get in touch
Want to know more about our tailored pricing plans? Get in touch with our sales team to figure out which plan suits your business.