MCU+ Data Sheet

The eyeson MCU+ service is an enhanced software cloud MCU (Multi Control Unit, based on eyeson Single Stream Technology) that provides an API for group video conferences adding custom data & media content into the video stream.
MCU Versus MCU+
Table of functions
The superiority of eyeson's MCU+ functions
eyeson's video conferencing technology is based on the MCU mode which supports server-side data processing and collects all streams from all participants in a central entity which then delivers a single stream to each participant.
This is aimed to guarantee high-quality video combined with a stable meeting experience.
MCU+ transcodes video, audio & data streams into one single stream

1 | DECODING/CONVERTING
Incoming video streams from each client are decoded into a raw video format. Incoming data stream are converted into pictures or single frames.
2 | MIXING/LAYOUT MANAGER
Video frames from incoming video stream and media conversions are mixed into one single frame. The layout manager can position each source separately.
3 | ENCODING/STREAMING
The mixed stream is encoded in one video stream and send to all connected client, as well used for recording and live streaming services.
Let our server do the computinG
Comparison on the client-side with 9 participants on the server
Save resources at the client-side
MCU makes it possible for a multipoint audio/video conference to be controlled and moderated from a single location.
With eyeson MCU+ the video streams are mixed on the server. Therefore the CPU-/GPU-Usage and the bandwidth usage are as low as possible – with just 1 outgoing and 1 incoming stream and with the video streamed from the client to the stream "as it is" without the need to do a lot of computing on the clients.
eyeson MCU+ can handle up to 100 participants, while other MCU are mostly limited to 16 participants.


(Test performed with Windows 10/Chrome on Intel Core i5-4590, 16 GB Ram, NVIDIA GeForce GT 730, 4 GB Ram
Technology overview
Basic technology: MCU/SFU hybrid, WebRTC compliant

Video codecs: vp8/h264 video codec

Audio codecs: opus/aac audio codec

API: REST (restful service)/websocket control interface


Recording: direct webm-recording

Streaming: DASH/RTMP(S) live-streaming client

RTMP: RTMP(S) client (live-stream forwarding) & RTMP server (video injection)
High-performing core software
eyeson single stream technology core MCU service written in C/C++ including RTMP live streaming and recording functions.
MCU controller written in one go
It is the main component to manage the cloud instances. Implements cloud API's for different cloud providers and manage the registration of the on-demand resource allocated meetings started by users
Bandwidth requirements
The connection for up- and downstream of each client automatically adjusts to the real-time streaming capabilities of the network the client is located in.
Upstream
40 kbps audio-only
900 kbps with video

1500 kbps with presentation/screen-casting
Upstream maximum (adaptive)
Downstream
1280x960 @ 1500 kbps @ 25fps

640x480 @ 800 kbps @ 25fps

320x240 @ 400 kbps @ 25fps
Regardless of the number of participants
(up to 100)
MCU+ is based on eyeson's patented Single Stream Technology
Low constant bandwidth needed from clients.

Bitrate does not depend on the number of participants, nor on the amount of data sent and received.

The client is directly connected to the conference server, not to the other participants. Server-side recording is available.

Devices using H323/SIP protocols can participate in conferences.

Maximum compatibility ensured by using standards supported by a maximum number of devices.

No expensive server is required to mix multiple media streams into one because eyeson takes care of it

Up to 100 participants in one meeting plus recording and live streaming.
No expensive devices needed
The server sends a single stream, which allows access to video conferences even through low-performance devices (smartphones, mobiles or tablets).
Data integration with patented technology
eyeson MCU+ can integrate data (triggered by the API) into the video stream
In-depth tech insights
Each cloud instance is controlling a wide range of functions for group video conferencing and data processing such as video and audio transcoding, mixing, streaming, recording, data & media injections and some more.
Clients are streaming audio and video from a web browser to the cloud instance, where all incoming streams are decoded. The decoded audio and video streams are mixed into one single video stream, which is used to send back to the clients, to store as a recording or to stream to broadcasting services (e.g. YouTube). (read more)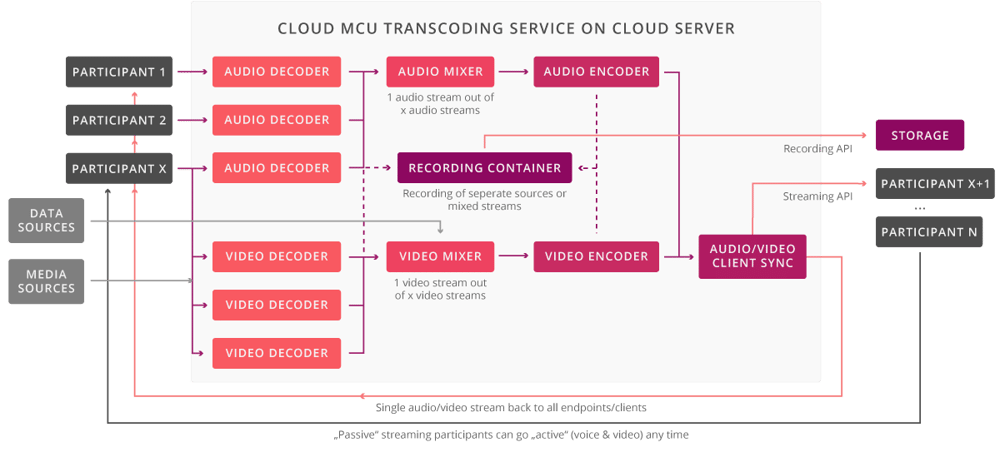 Transparent All-in-One Pricing

Independent of the number of participants and features, we charge only based on the duration of the meeting.