Cloud Video Service
eyeson sets a new standard for spontaneously generated cloud video meetings – managing cloud capacity, scalable video coding performance & data management for you.
eyeson Cloud Video Technology
Cloud Processing Services
MCU (MULTIPOINT CONTROL UNIT)
The streams from all participants will be collected on a virtual cloud server instance. Only 1 single stream (SST) is sent back to all participants.
SFU (SELECTIVE FORWARDING UNIT)
The stream is directly forwarded to the other participant. This happens without additional processing of the video.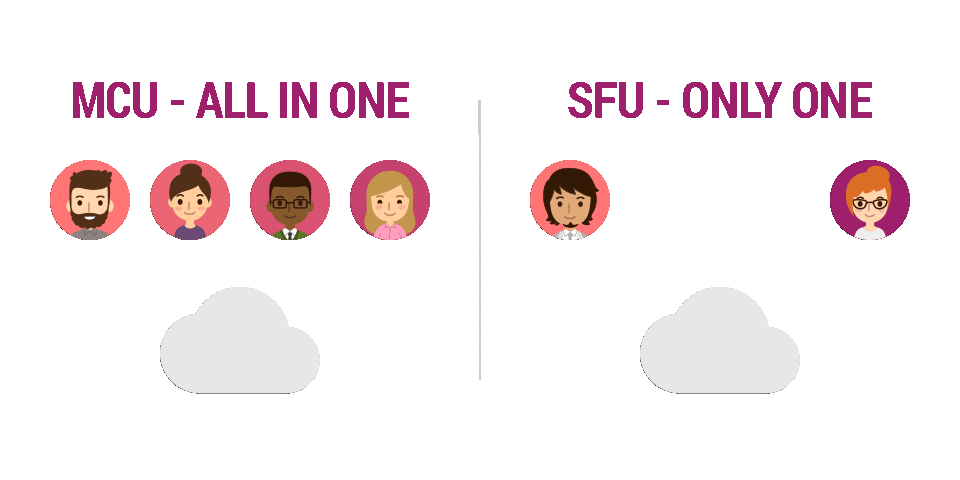 1 Cloud Instance = 1 API Video Session
CLOUD SCALABILITY
To optimize the cloud performance the eyeson API generates for every video sessions a unique virtual cloud server instance.
CLOUD SECURITY
Each virtual cloud server instance can be used only during the video session and is terminated after the video session is finished. (read more)
eyeson Cloud Capacity
eyeson cloud services can immediately be used for world wide scaling:
100% cloud instance scaling with standard service providers

Supports parallel video sessions and service instances

Full video processing performance

Full data storage and recording service

Full broadcasting and streaming service
Standard Cloud Service Providers
Currently supported providers are Amazon AWS, T-Systems, Exoscale, Alibaba Cloud.
Secure Data Processing
Data processed in the cloud include text chat, presentations from PDFs and images, screen casting, live video & audio, recordings and snapshot.
Secure Video & Data Processing
The basic concept is that each individual video session is executed on one server (on premise from a cloud provider) and is only valid for the time it is used:

Video meetings store data temporarily

Data will be deleted after a meeting

Video meetings can be locked

Everything is fully encrypted

No tracking tools like Facebook Analytics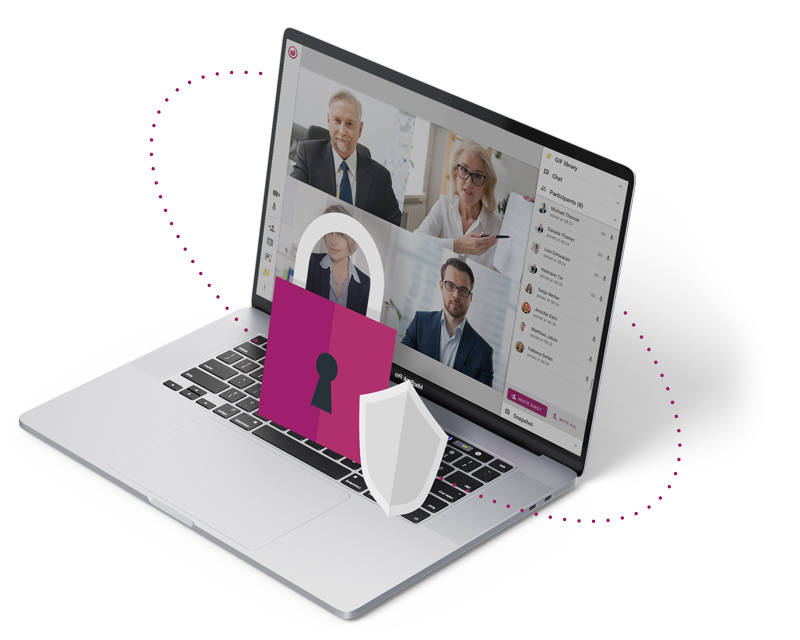 Transparent All-in-One Pricing

Independent of the number of participants and features, we charge only based on the duration of the meeting.
Tech Insights - How It Works ...
Each cloud instance is controlling a wide range of functions for group video conferencing and data processing such as video and audio transcoding, mixing, streaming, recording, data & media injections and some more.
Clients are streaming audio and video from a web browser to the cloud instance, where all incoming streams are decoded. The decoded audio and video streams are mixed into one single video stream, which is used to send back to the clients, to store as a recording or to stream to broadcasting services (e.g. YouTube). (read more)